24 star Annie Wersching dies at the age of 45
Actor Annie Wersching, best known for playing FBI agent Renee Walker in the series 24 has died at the age of 45.
Wersching died on Sunday morning in Los Angeles following a battle with cancer.
Stephen Full, her husband and the father of her three sons, confirmed the news in a statement released to US news outlets.
"There is a cavernous hole in the soul of this family today.
"But she left us the tools to fill it. She found wonder in the simplest moment.
"She didn't require music to dance. She taught us not to wait for adventure to find you. 'Go find it. It's everywhere.' And find it we shall.
"As I drove our boys, the true loves of her life, down the winding driveway and street, she would yell BYE! until we were out of earshot and into the world. I can still hear it ringing. Bye my Buddie. 'I love you little family…' "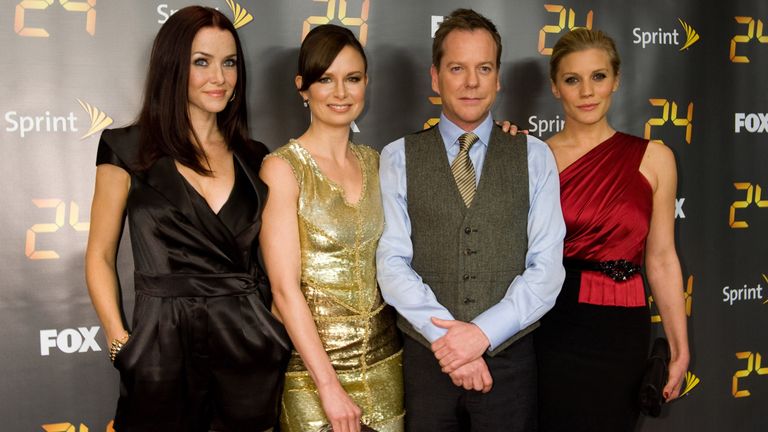 Wershing was diagnosed with cancer in 2020, according to entertainment website Deadline, but continued working, doing what she loved.
Her 24 co-star Kiefer Sutherland paid tribute to her saying the world had "lost a light" with her passing and called her one of the greatest actors he'd ever worked with.
Titus Welliver, who stared alongside her in the tv series Bosch, said simply: "There are no words. Love you Annie."
Wersching provided the voice for Tess in the video game The Last Of Us.
Its creator Neil Druckmann wrote on Twitter: "We just lost a beautiful artist and human being. My heart is shattered. Thoughts are with her loved ones."
Actor Abigail Spencer, who appeared with Wersching on the sci-fi series Timeless tweeted, "We love you Annie Wersching. You will be deeply missed."
Read more on Sky News:
Kate Ferdinand announces she and husband Rio are expecting second child together
Julian Sands: 'Something has gone wrong,' says friend of missing British actor
Born and raised in St Louis, Missouri, Wersching appeared on dozens of television shows over the course of her two-decade career.
Her first credit was in Star Trek: Enterprise and she would go on to have recurring roles in the seventh and eighth seasons of 24, Bosch, The Vampire Diaries, Marvel's Runaways, The Rookie and, most recently, the second season of Star Trek: Picard as the Borg Queen.
You may be interested